Do It Yourself
There are a number of reasons why participants may choose to create their own investment mix, or asset allocation using the menu of individual investment options under the Plan. Some investors may choose an asset allocation that is customized to their particular needs along with Retirement Date Funds. And some investors prefer to use multiple active investment options or create a portfolio of passive, or indexed investment options.
The Plan strives to offer sound investment options in each major asset class. Details on the Plan's investment offerings can be found in The Guide to Investment Options (PDF). Investment options are chosen based on a number of factors including: long term record, management stability, style consistency and lower than industry average expenses. Although changes to the line-up may be infrequent, all investment options are reviewed on a regular basis.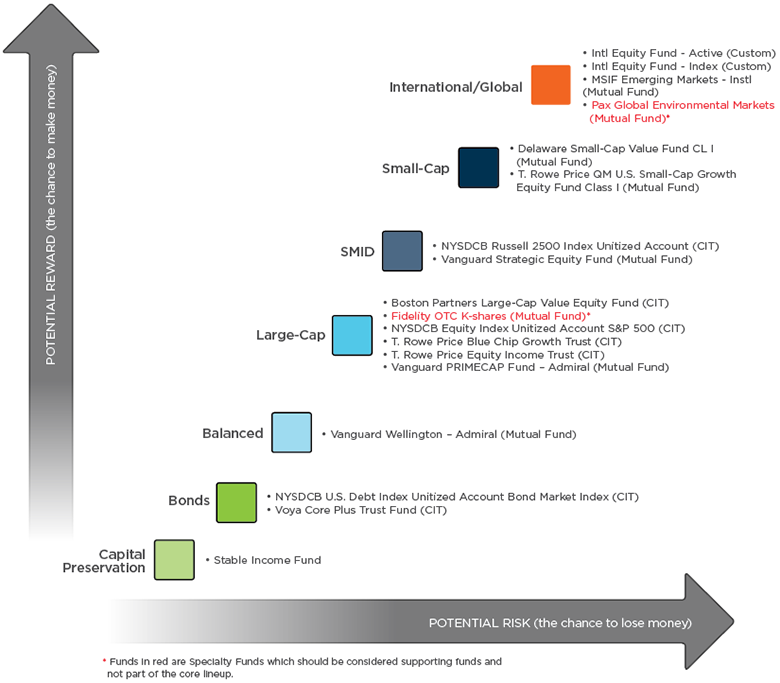 Fund prospectuses and fact sheets can be obtained by calling 1-800-422-8463. Before investing, carefully consider the fund's investment objectives, risks, and charges and expenses. The fund prospectus and fact sheets contain this and other important information. Read the prospectuses and facts sheets carefully before investing.
The investment options offered under the New York State Deferred Compensation Plan offer diversity and flexibility to Plan participants. Amounts that participants contribute to the New York State Deferred Compensation Plan may be invested in one or more of the listed investment options, which represent seven different asset classes.
The asset classification and/or investment style of any investment option may change. The information concerning asset classification and investment style provided in this guide was last updated on July 7, 2017.
Investing involves market risk including the possible loss of principal. Certain investments may involve additional risks as listed below.
Asset classes/investment types
Stable Income fund - The Stable Income Fund invests in a combination of managed bond portfolios integrated with wrap contracts to provide a stable value and low-to-modest returns. This fund is not insured or guaranteed by the Federal Deposit Insurance Corporation or any other federal government agency. Although it seeks to preserve the value of your investment, it's possible to lose money by investing in Stable Income Funds.
See more details about Stable Income Funds.
Bond fund - Bonds are loans to corporations, municipalities, the federal government or other issuers. Most bonds pay interest until the bond matures. Bond funds have the same interest rate, inflation and credit risks that are associated with the underlying bonds owned by the fund.
Balanced funds - Balanced funds invest in both bonds and stocks. The purpose is to achieve higher returns than a bond fund but with less volatility or price fluctuation than most stock funds.
T. Rowe Price Retirement Date Trusts - Designed to provide diversification and asset allocation across several types of investments and asset classes, primarily by investing in underlying funds. Therefore, in addition to the expenses of the portfolio, you are indirectly paying a proportionate share of the applicable fees and expenses of the underlying funds. Find out more about T. Rowe Price Retirement Date Trusts.
U.S. stock funds - A stock represents a share of ownership in a corporation or certain partnerships. This category is further broken down by capitalization (cap) which essentially means the size of the companies that are being invested in. There are three types:
Large-cap funds - These funds invest primarily in the stocks of the largest companies in the U.S. These companies tend to be well established with long track records of success and experienced management. These are considered to be the most conservative stock investments
Small/mid-cap funds (SMID) - These funds invest in small- and mid-sized companies, respectively. Stocks of smaller companies can experience more volatility than those of larger companies because these companies may have less experienced management, fewer resources, and not be well established in their marketplace. These funds offer the potential for higher long-term returns than large-cap stock funds, but an of increased potential risk and volatility
Small-cap funds - These funds consist of young companies in high-growth phases. Not all small cap stocks have a technology focus. There are small cap stocks in nearly every industry sector. Small-company stocks are often more volatile than stocks of larger, more established companies.
International stock funds - established markets - International funds primarily own shares of companies that are headquartered outside of the U.S. and are listed on foreign exchanges. International investments may be subject to several added risk factors such as government stability, currency valuation and market regulation.
International stock funds - emerging markets - Emerging market funds also invest in the stocks of companies not headquartered in the U.S., but they have an emphasis on companies located in less-developed markets. Funds that invest internationally involve risks not associated with investing solely in the U.S., such as currency fluctuation, political risk, differences in accounting and the limited availability of information.
See more details about International Equity Funds.
Index and actively managed investment options - The Plan offers these options:
Index funds - Sometimes called passive investment strategies, an index fund is a portfolio constructed to match or track the components of a market index. A market index is a grouping of securities selected by analysts to track and gauge performance of a certain part of the market.
Actively managed funds – These funds employ one or more fund managers and investment analysts to research and select investments they believe will perform better than average for their category, measured by the corresponding index. The objective for an actively managed fund is that over a long period of time, it will consistently outperform the index for its category.
You can also see Net Asset Values for your investment choices.
Exchange restrictions and redemption fees
The Plan works with our investment option providers to permit exchanges between investment options with as few restrictions as possible. All exchange requests received prior to the close of the NYSE (normally 4 pm Eastern Time) will be processed at that day's closing price. Exchanges may be initiated by calling the HELPLINE and accessing the VRU or by speaking to a HELPLINE Representative, or accessing your account online.
International fund repurchase restriction
There is a 60-day repurchase restriction applicable to both of the Plan's International Equity Funds and the Morgan Stanley Emerging Markets Fund. You may exchange assets out of the International Equity Funds at anytime, however, you may not re-purchase shares in these funds for a period of sixty days after the last outgoing exchange.
In addition, direct transfers are not permitted between the International Equity Fund – Active Portfolio and the International Equity Fund – Index Portfolio and an exchange out of either of these fund options will prohibit an exchange into either fund for a 60-day period.
Participants are permitted to exchange assets out of the Morgan Stanley Emerging Markets Fund, but are not able to repurchase shares in this fund during the following 60 calendar days.
Account Executives are registered representatives of Nationwide Investment Services Inc. member FINRA.
Get the help you need
Call the HELPLINE, or meet with your Account Executive if you have questions about your investment options.
PDFs require Adobe® Reader®.
NRW-3221NY-NY.7