NYSDCP Videos
Watch our videos to learn more about the Plan, so you can make informed decisions about preparing financially for your retirement.

We're introducing a new fund to the Spectrum of Investment Options.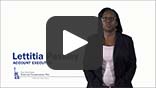 Let an Account Executive explain the new ESG investment option being added to the Plan on March 1, 2018.
NRW-3819NY-NY